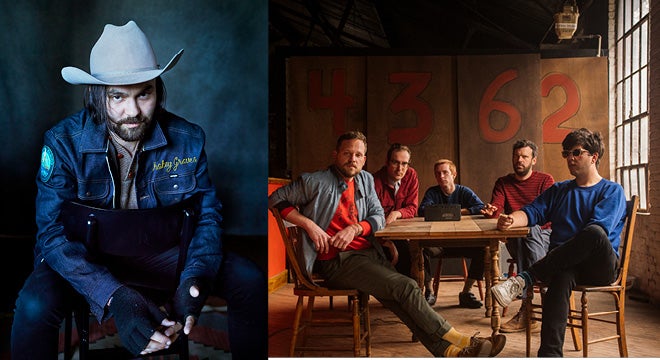 Thu, Sep 12, 2019
Shakey Graves & Dr. Dog
with Liz Cooper & The Stampede
Alejandro Rose-Garcia (aka Shakey Graves) announced his newest album 'Can't Wake Up' (out now on Dualtone) with a simple message to his fans - "Next album. New sound. Sell your suspenders."

That tongue-in-cheek statement, though, was a genuine attempt to prepare his followers for a major sonic shift for the Texas songwriter, who got his start performing as a one-man band, culminating with an Americana Music Awards win for "Emerging Artist of the Year" behind his breakout full-length album, 'And The War Came.'

Now armed with a full band, Rose-Garcia leaves behind much of that stripped-down, folk-y sound. 'Can't Wake Up' takes his songwriting in a "decidedly bigger direction" full of "lush indie compositions" (Consequence of Sound), drawing on another set of his musical influences, ranging from the Beatles and Harry Nilsson to Elliott Smith, Broken Social Scene, Built to Spill and other '90s indie rock bands.

Sitting down with Thrasher Magazine, Rose-Garcia explained what sparked the change in creative direction. "To get your head above water, you have to have an identity. I wore a cowboy hat and played a suitcase drum. There are tons of people who still imagine me as that guy, because that's the only thing they've seen," he admits. But on this album, he says, "I made something that I want to listen to."

The response so far proves that it was a worthwhile risk. As NPR Music writer Nina Corcoran put it, he "gambles with the very formula that brought him fame," adding that "he pulls it off in large part due to his storytelling prowess; these songs would be welcoming, even enthralling, in any style."

Billboard was struck by Rose-Garcia's knack for storytelling, calling the album "a lyrical powder keg," while Brooklyn Vegan said it "ditches the roots rock vibe he's been known for in favor of something weirder," adding "it's not the Shakey Graves you're used to at all, and it's very worth a listen."

With a road-tested group of musicians and a hand-built stage set up complete with psychedelic lighting and props, Shakey Graves' live show has grown into something much bigger, too. "After smashing his mold on 'Can't Wake Up,' Shakey Graves also revolutionized his live show," said the Austin Chronicle, describing a recent hometown set as "a seamless and compelling home run of a performance."

"Shakey Graves' latest reinvention is also his best," said the Dallas Observer. "[He's] never sounded freer, weirder or more in touch with his skill set."

About Dr. Dog:
"I feel like I'm in a totally new band right now," says Dr. Dog guitarist/singer Scott McMicken. It's a bold declaration considering he's been co-fronting the beloved indie outfit for a decade-and-a-half, but it cuts straight to the heart of the intense and transformative experience behind the group's brilliant new album, 'Critical Equation.' The most infectious and adventurous collection Dr. Dog has laid to tape yet, the record was born from a journey of doubt and discovery, a heavy, sometimes painful reckoning that ultimately brought the band closer together with more strength and clarity than ever before. Call it an existential awakening, call it a dark night of the soul, whateverit was, it fueled one of the most fertile creative periods in the group's history and forced them to confront that timeless question: what do we really want?
"We'd been touring and making records for our entire adult lives, and I think we just needed to take a step back," reflects bassist/singer Toby Leaman, who splits fronting and songwriting duties with McMicken. "It was important for all of us to figure out if we were actually doing what we wanted to be doing, or if we were just letting momentum carry us down this path we'd always been on."
The path to 'Critical Equation' was an unusual one for the Philadelphia five-piece (McMicken, Leaman, guitarist Frank McElroy, keyboardist Zach Miller, and drummer Eric Slick), and it stretches all the way back to 2014, when the band completed work on an album titled 'Abandoned Mansion.' Instead of releasing the record the following year as planned, they temporarily shelved it in favor of an opportunity to partner with the celebrated Pig Iron Theatre Company on a reimagining of 'The Psychedelic Swamp,' a long lost McMicken-Leaman collaboration that actually predated Dr. Dog's debut album. The resulting theatrical/concert performance premiered at the Philly Fringe Festival, and the accompanying LP earned rave reviews, with NPR hailing it as "a concept album that wanders and sprawls to absorbing effect" and Under The Radar swooning for its "unmistakably sublime harmonies." Despite representing something of a Rosetta Stone for Dr. Dog, the album also marked a major departure, with elaborate production and experimental arrangements that broke from the simpler, more emotionally direct studio sound they'd been gravitating towards over the years. Rather than the start of a new chapter, 'The Psychedelic Swamp' seemed to symbolize the closing of a circle, which made it an ideal catalyst for some serious soul searching.
"We were all really satisfied to close 14 years of history by finally revisiting 'The Psychedelic Swamp' and giving it our full attention," says McMicken, "but I think stepping out of our natural evolution definitely taxed us. We decided we should put 'Abandoned Mansion' out and just go our separate ways for six or seven months."
They released the album with little fanfare, posting it to Bandcamp as a benefit for the Southern Poverty Law Center and walking away without any touring or press for a much–needed break. That time apart proved to be invaluable, as it offered each bandmember the opportunity to reflect and reevaluate, to challenge and confront their conceptions of the group and its possibilities, to ask the hard questions of
themselves and each other. They'd achieved remarkable success—multiple Top 50 albums; television performances on Letterman, Fallon, Conan, and more; critical acclaim everywhere from the NY Times to Rolling Stone; massive festival appearances around the world; major tours with the likes of My Morning Jacket, M Ward, and The Lumineers; countless sold-out headline shows—but none of it mattered if they couldn't answer that nagging question: what do we really want?
Some bandmembers used the break to grow their families, others to explore different artistic avenues. McMicken and Leaman each penned a mountain of songs on their own, inspired by the liberty of writing without expectation or responsibility. When the band finally reunited to begin work on 'Critical Equation,' they did so with fresh perspective. The distance had ironically brought them closer together, helping them learn to communicate in more honest and open ways. As they worked through the challenges and growing pains inherent in rewiring the foundation of any relationship, they found themselves more excited and inspired than ever before.
"We had to tear it apart in order to rebuild it," explains McMicken. "At first, we'd just tiptoe into things and gently peel back a layer, but once we'd peeled back that layer, we'd find that we'd accessed an even deeper layer, and again and again. Eventually we got to the deepest, most honest part of ourselves."
Typically, Dr. Dog would record themselves in their own studio, but one of the revelations from their break was that that brand of insularity had begun to feel more limiting than empowering. With that in mind, they packed their bags and headed to LA to record 'Critical Equation' with producer/engineer Gus Seyffert (Beck, Michael Kiwanuka), who served as something of a group therapist, whether he knew it or not.
"One of the big conclusions we came to was that we've got to blow this whole scene open," explains Leaman. "We needed somebody to be the boss, somebody to be in charge of us in the studio. It's not the way we've ever worked before, but we really trusted Gus."
One listen to 'Critical Equation' and it's clear that the decision paid off in spades. Recorded to 16-track analog tape, the album opens with the equally lilting and ominous "Listening In," a track which pairs Dr. Dog's signature blend of quirky 60's pop and fuzzy 70's rock with Seyffert's willingness to tear their songs wide open. On "Go Out Fighting," a vintage Hammond organ gives way to blistering electric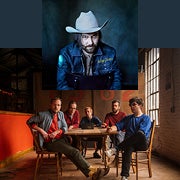 Doors

6:00 PM

Show

7:00 PM

Price

$35 General Admission, $40 Day of Show
SHOWINGS
This event has already occurred.