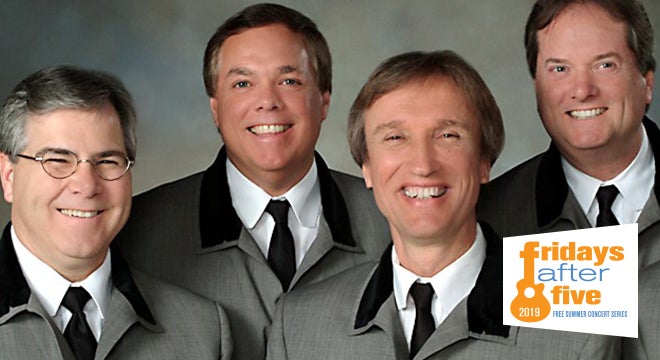 Abbey Road - Fridays After Five
Fri, May 17, 2019
Abbey Road - Fridays After Five
With Second Opinion
FRIDAYS AFTER FIVE - BUD LIGHT CONCERT SERIES
Abbey Road - Everyone Loves The Beatles! - Free Show
"Yes we're gonna have a party..party!" Abbey Road brings a high-energy show to your event and will take you back to the feel-good years of the British invasion when the sounds of Liverpool crossed the Atlantic. Instead of impersonating The Beatles, Abbey Road invites the audience to share in their excitement for The Beatles' music. It is very common to see crowd participation at one of their performances. You will see the audience clapping hands, singing on stage with the band, and swaying arm-in-arm to favorite songs as they are caught up in the magic of the music.
Based in Charlottesville, Virginia, AbbeyRoad has an incredible set list of all the great hits as well as the lesser-known Beatles tunes. The variety of all the band members creating vocals, makes the band a real audience pleaser. From "I Wanna Hold Your Hand" to "Let It Be", the audience will be on its feet.
Abbey Road captures The Beatles' magic through precision musicianship, tight harmonies, vintage and replica instruments, and fun costuming! Come out and share in the fun!
The goal of the Sprint Pavilion is to provide a safe, enjoyable environment for all of our patrons, our performers, and our staff. With that in mind, beginning in 2018, we will enact new security procedures to make sure that prohibited or dangerous items are not brought into the venue. For all events, including Fridays After Five, patron points of entry will be limited and there will be a bag check for any packages brought inside the gates. We encourage our patrons to travel light but, if you do have bags or packages with you, plan for the entry to take a few moments as our staff inspects the bags. We appreciate your patience so that we can all feel safe. Unfortunately, we do not offer any bag check so please familiarize yourself with our list of prohibited items and leave them at home.
For all ticketed events, we will be instituting a higher level of security. All patrons will be asked to walk through our metal detectors after emptying their pockets of any metal objects. Patrons may opt for a pat down inspection should they choose. We will have plenty of lines open and we hope that this procedure will flow smoothly and not delay your entrance to the venue. Should you bring bags with you to ticketed events, we will still need to inspect the parcel prior to you passing thru the metal detectors. Once again, we appreciate your patience as we work to ensure the safety of all of our patrons.
SHOWINGS
This event has already occurred.