Tue, Aug 3, 2021
Bright Eyes
with Lucy Dacus
Sometimes it feels like you hear a Bright Eyes song with your whole body. From Conor Oberst's early recordings in an Omaha basement in 1995 all the way up to 2021, Bright Eyes' music tries to unravel the impossible tangles of dissent: personal and political, external and internal. It's a study of the beauty in unsteadiness in all its forms – in a voice, beliefs, love, identity, and what fills up the spaces in-between. And in so many ways, it's just about searching for a way through.
The year 2020 marked significant anniversaries for Bright Eyes. Fevers and Mirrors passed the 20-year milestone, while Digital Ash in a Digital Urn and I'm Wide Awake It's Morning both turned 15 in January. The latter, a singer-songwriter tour-de-force released amidst the Bush presidency and Iraq war, wades through incisive anti-war rhetoric and micro, intimate calamities. On the title track and throughout the record, Oberst sings about body counts in the newspaper, televised wars, the bottomless pit of American greed, struggling to understand the world alongside one's own turmoil. In its own way, I'm Wide Awake It's Morning carved out its place in the canon of great anti- war albums by being both present and prophetic, its urgency enduring 15 years later.
Bright Eyes' long-awaited tenth studio album and first record since 2011, Down in the Weeds Where the World Once Was, was released in August 2020. As a title, as a thesis, Down In The Weeds, Where the World Once Was functions on a global, apocalyptic level of anxiety that looms throughout the record. But on a personal level, it speaks to rooting around in the dirt of one's memories, trying to find the preciousness that's overgrown and unrecognizable. For Conor Oberst, coming back to Bright Eyes was a bit of that. A symbol of simpler times, vaguely nostalgic. And even though it wasn't actually possible to go back to the way things were, even though there wasn't an easy happy ending, there was a new reality left to work with.
Lucy Dacus
There are a thousand truisms about home and childhood, none of them true but all of them honest. It's natural to want to tidy those earliest memories into a story so palatable and simple that you never have to read again. A home video promises to give your memories back with a certificate of fact— but the footage isn't the feeling. Who is just out of frame? What does the soft focus obscure? How did the recording itself change the scene?

Some scrutinize the past and some never look back and Lucy Dacus, a lifelong writer and close reader, has long been the former sort. "The past doesn't change," Dacus said on a video call during that interminable winter of video calls. "Even if a memory is of a time I didn't feel safe, there's safety in looking at it, in its stability."

This new gift from Dacus, Home Video, her third album, was built on an interrogation of her coming-of-age years in Richmond, Virginia. Many songs start the way a memoir might—"In the summer of '07 I was sure I'd go to heaven, but I was hedging my bets at VBS"—and all of them have the compassion, humor, and honesty of the best autobiographical writing. Most importantly and mysteriously, this album displays Dacus's ability to use the personal as portal into the universal. "I can't hide behind generalizations or fiction anymore," Dacus says, though talking about these songs, she admits, makes her ache.

That Home Video arrives at the end of this locked down, fearful era seems as preordained as the messages within. "I don't necessarily think that I'm supposed to understand the songs just because I made them," Dacus says into a screen, "I feel like there's this person who has been in me my whole life and I'm doing my best to represent them." After more than a year of being homebound, in a time when screens and video calls were sometimes our only form of contact, looking backward was a natural habit for many. If we haven't learned it already, this album is a gorgeous example of the transformative power of vulnerability. Dacus's voice, both audible and on the page, has a healer's power to soothe and ground and reckon.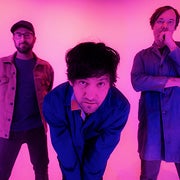 Doors

6:00 PM

Show

7:00 PM

Price

$32 - $56
SHOWINGS
This event has already occurred.