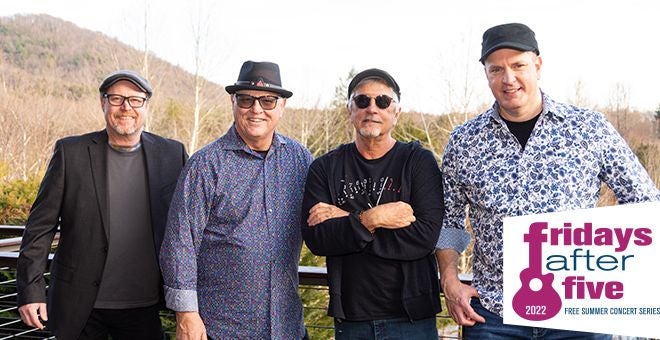 Fridays After Five: Ken Farmer and The Authenticators
Fri, Jun 24, 2022
Fridays After Five: Ken Farmer and The Authenticators
with Studebaker Huck
FRIDAYS AFTER FIVE | BUD LIGHT CONCERT SERIES
Ken Farmer and The Authenticators - Rockin Boogie Blues

Ken Farmer's musical journey began at the age of 10 with a Silvertone arch top guitar and then a Teisco del Ray bass. Ken says, "I was attracted to the Stones and rhythm and blues while most of my contemporaries were into popular songs on the radio." Another big influence was the work of Doc Watson which led to Ken playing bluegrass professionally for 4 years in his 20's. Later he began playing and singing roots rock, rockabilly, blues, folk, old country and a mix of American music that takes in all of the 20th century and some originals and contemporary songwriters. He has merged his love of traditional music with his occupation as an antiques and fine arts appraiser and broker, appearing on the popular PBS series Antique Roadshow as a regular contributor since 1993.
Moving to Charlottesville, Virginia in 2012, Ken began meeting other like-minded musicians in the Central Virginia Blues Society. After playing with Rob Martin of Nelson County, VA and hearing Rob's red-hot Telecaster, a musical brotherhood was established. Their two-guitar partnership, song selection and harmony singing has established the foundation of Ken Farmer & The Authenticators. Other members include Frank Cain on drums and Preston Wallech on bass. A live event with this band is a guaranteed good time. You can rock in your seat or dance the night away. If you feel good and want to feel better or if you need to chase away your blues, Ken Farmer & The Authenticators is the only prescription. Only real, Authenticator music for the heart & soul will be played.
SHOWINGS
This event has already occurred.