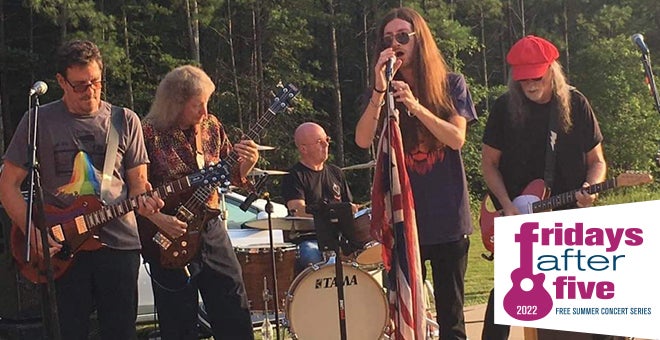 Fridays After Five: Cherry Red
Fri, Jul 15, 2022
Fridays After Five: Cherry Red
with Josh Mayo & the House Sauce
FRIDAYS AFTER FIVE | BUD LIGHT CONCERT SERIES
Cherry Red - Nothing but the Stones
Cherry Red was born in the mind of award winning songwriter, guitarist, keyboardist and Keith Richards fanatic, Stephen Pollock. His concept was to put together a band to do not necessarily Rolling Stones' music note for note but to certainly capture the correct feel and attitude. Stephen has studied Richard's stylings and tunings that are at center of the Stones sound. The Human Riff, indeed!
Cherry Red did not emerge overnight. There were several false starts but finally all the right musicians were assembled. These fine musicians are:
Stephen Pollock: guitar and vocals
Dan Barrale: drums and vocals.
Nick Pollock: lead vocals, guitar
Steve Riggs: bass.
Max Hoecker: guitar, sax and vocals
The name, Cherry Red, comes from the lyrics of the Stones song, "Can't Always Get What You Want- We decided we would have a soda, my favorite flavor, cherry red".
Cherry Red wants to be your favorite flavor when it comes to authentic sounding Rolling Stones music. If you wanna rock, roll, dance, knock a few back and smile, we're your boys. All Stones, all the time, dance lil sista, dance.