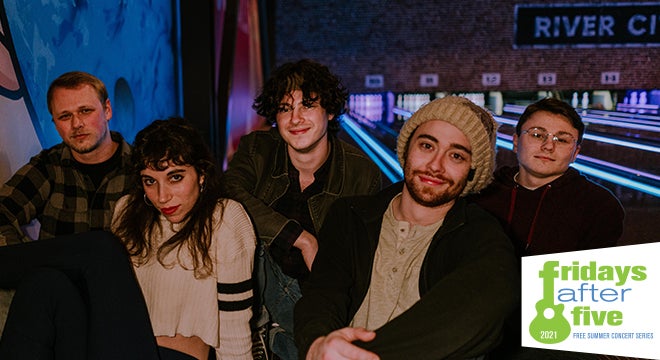 Fridays After Five - Dropping Julia
Fri, Jul 9, 2021
Fridays After Five - Dropping Julia
with Boxed Lunch
FRIDAYS AFTER FIVE | BUD LIGHT CONCERT SERIES
Dropping Julia - Dreamy, Sassy, Funky Rock

Born in the 90's into the bustling, gritty state of New Jersey, Jules set out as a teen, carrying the nostalgia of home from coast to coast, from wild seashores to eccentric towns, and across the pond to the dimly lit cities and countryside of Europe. Bearing her guitar, she bashfully strummed and honestly sang the poems from inside her journal - scribbled down in cafes in the East Village, beatnik cooperatives in California, farms in Western Ireland.
Her adventures, experiences and serendipitous connections bled their way into books full of songs that candidly express female struggles, sorrow, inner battles, nightmares, loss, troublesome love, crowded and anonymous subway trains, the restless twilight of a sleepless night, longing for that mysterious human connection, and the search for magic.
Eventually landing in the rolling Blue Ridge mountains of Central Virginia, she teamed up with the boys to create Dropping Julia. Together they breathe new life into her songs to concoct their unique technicolor mixture - part dreamy and melancholy, part funky and sassy - that bewitchingly delivers the evocative stories in Jules' writing.
Dropping Julia is animated with a dynamic rhythm section, soothing and soulful guitars, jazzy, colorful keyboard, and is topped off with Jules' whimsical yet sultry vocals, passionately and poetically expressing her unique perspective on life. Their eclectic performances are full to the brim with infectious energy and quirky camaraderie, channeling a pastel, bright and bold retro past, all wrapped up with Jersey sass and Virginia charm.
SHOWINGS
This event has already occurred.