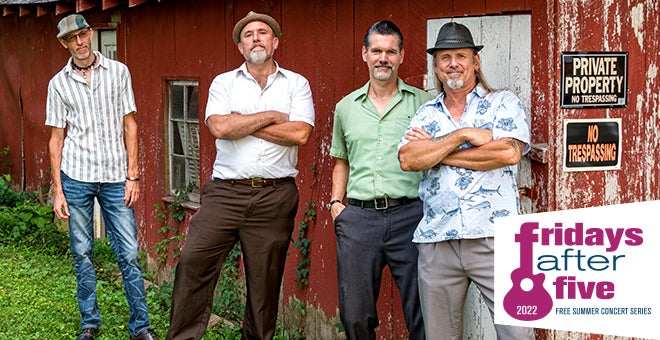 Fridays After Five: Hard Swimmin' Fish
Fri, Jul 22, 2022
Fridays After Five: Hard Swimmin' Fish
with Scuffletown
FRIDAYS AFTER FIVE | BUD LIGHT CONCERT SERIES
Hard Swimmin' Fish - Twisted Vintage Roots Blues
Boy, Hard Swimmin' Fish are fun, aren't they? A staple on the music scene for what seems like a lifetime, the quartet's live show has been a must-see for anyone who is even slightly familiar with the Americana music scene. The old-fashioned suits. The harp that blows hurricanes through the speaker of a telephone. The upright bass. The crazy-looking, unconventional drum kit. It's a ball of entertainment each time it convenes!
Hard Swimmin' Fish are an ensemble deeply rooted in the traditions of American music. Their down-home roots sound pilfers from the best that early American music has to offer including blues, jazz, funk and swing, and churn it all up into a spicy brew that is familiar yet uniquely their own. Hard Swimmin' Fish are celebrating twenty years of entertaining with their infectious, danceable roots music.
SHOWINGS
This event has already occurred.