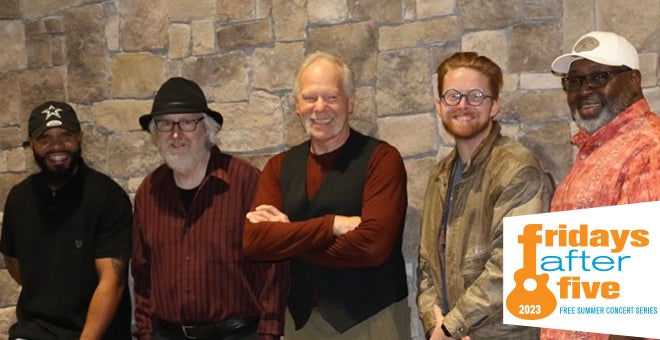 Fridays After Five: The ChickenHeads
Fri, Jun 9, 2023
Fridays After Five: The ChickenHeads
with Campbell Road Band
FRIDAYS AFTER FIVE | BUD LIGHT CONCERT SERIES
The ChickenHeads - New Orleans Boogie R&B
Our band history begins in 1999 with weekly legendary Thursday evening shows playing blues tunes at Durty Nelly's Pub. A few personnel changes later led to the more fusion influenced repertoire presented now. You will hear a taste of New Orleans, Jazz Crusaders, Tom Scott and LA Express, and even Jimi Hendrix mixed in with some original songs as well. All our songs are chosen to get you up on your feet!
Victor Brown
Bassist, Vic Brown was inspired into the world of music during his youth by family and friends starting with guitar and then moving onto bass during high school years. His playing style leans in the directions of funk and gospel, expressed with internationally known artists and various bands as well as First Baptist Church on West Main Street where he serves as an instrument of praise. Current influences are Marcus Miller and Fred Hammond.
Check out Victor Brown and "His Fingers of Renown."
Jeffrey Louderback
Drummer, Jeff Louderback followed in his father's footsteps with stick lessons beginning at age 7, followed by marching band, concert band and jazz band through his years in school. His style ranges from funk to rock and gospel shuffles all inspired by Carter Beauford, Questlove and Billy Cobham.
Skip Haga
"Professor" Haga began his musical career as a bassist with a missed opportunity to join in Todd Rundgren's band with childhood friend, Roger Powell. He then settled in to study trumpet and keyboards at Shenandoah Conservatory. Skip's musical connections include performing with various other local bands and occasional solo gigs promoting his CD, Hogwaller Woman.
Jack Sheehan
Saxophonist, Jack Sheehan has already performed alongside artists such as Terence Blanchard, John Clayton, Jesse Colin Young and now the ChickenHeads! His passion for music along with his personality have been described as explosive, fiery and yet delicate. A composer, recording artist, educator and entrepreneur, Jack is making his mark on the music industry.
Aric Van Brocklin
With a family move from upstate New York to New Orleans, LA, middle school trombone lessons turned into an interest in slide and standard tuned guitar styles leading to participation in bands from NOLA to New York, New Jersey and then Central Virginia. Musical influences range from Jimmy Reed to Jimi Hendrix and Jeff Beck.
SHOWINGS
This event has already occurred.