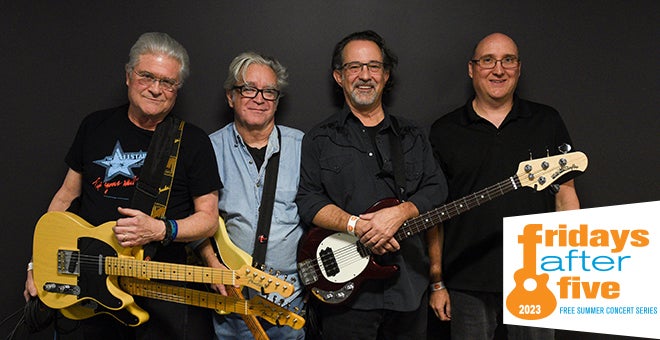 Fridays After Five: The Gladstones
Fri, Jun 2, 2023
Fridays After Five: The Gladstones
with Mojo Pie
FRIDAYS AFTER FIVE | BUD LIGHT CONCERT SERIES
The Gladstones - Rock n Roll, Rollin' Rock
Long ago in a distant galaxy, Bob Girard toured the East Coast in the estimable Charlottesville band, The Casuals featuring Johnny Sportcoat. The band dissolved, Bob got a job, had kids, the whole nine yards. A few years back, Bob got run over by a bus in Rome, started playing guitar as therapy for his shattered arm, and began to write songs again at an incredible rate. The Gladstones were born.

Bob enlisted his long-time friend Charlie Pastorfield to play guitar in his new band. Charlie had spent most of his adult life playing in The Skip Castro Band and The Believers, then he also got a job and had kids. Their kickin' rhythm section consists of Jim Ralston on drums, Tim Ryan on bass. Occasionally Skip Haga will join the band on keys.

The Gladstones play straight, old school rock 'n' roll of every variety, ranging from Johnny Cash to The Clash, from Rolling Stones to Grateful Dead. They mix in a bunch of original songs, penned by Girard and Pastorfield, that fit right into the general mayhem. Come on down and bring your dancing shoes.
SHOWINGS
This event has already occurred.