Sat, Oct 30, 2021
Halloween Bash - Chamomile & Whiskey and 49 Winchester
with The BLNDRS -- Presented by WNRN
Dress up, grab a drink and come rock out with some of your favorite Virginia bands! A portion of the proceeds from the evening will benefit Chris Long Foundation and Waterboys.
Chamomile and Whiskey came about like all good, simple things--by making two things into one. In the case of this group, Marie Borgman and Koda Kerl--native musicians of Nelson County, Virginia--combined chamomile tea with Evan Williams whiskey one evening. They decided that what they had made tasted like their sound.

Although the group has evolved since forming in 2011, it, like the subtle mixture of herbal tea and whiskey, has matured and found its own sly, subtle voice. If a band has feet, then Chamomile and Whiskey has both of them firmly on the ground. But if a band is a living thing like a plant--which the best bands are--Chamomile and Whiskey has grown from roots set deep in Americana, blues, Celtic, old-time and the singer-songwriter tradition of the south.

The group has developed a more electric sound with Drew Kimball on guitar and enhanced the foundational fiddle and guitar sound with drummer Stuart Gunter. Their last studio album was recorded in 2019 in Nashville by Ken Coomer of Wilco and Uncle Tupelo. It sounds like music that is lived in and lived through. Their sound tastes like Chamomile and Whiskey.

---
Alt-country soul from the heart of Appalachia in Russell County, VA., 49 Winchester delivers the poetically straightforward songs of singer/guitarist Isaac Gibson in a soulful electric live show. Rock & roll with roots planted firmly in the traditions of mountain music. The band made their start in the months after high school in late 2013 & have since made a name for themselves as warriors of the road, independently releasing three albums & playing hundreds of shows across the East and Pressing forward to new territories.
"In many ways, 49 Winchester, the nom de plume of singer/songwriter/guitarist Isaac Gibson, could be considered your stereotypical gruff and gritty homegrown troubadour. Over the course of the past six years, Gibson and his compatriots have made it a point to keep to the basics, be it a blazing combination of drive and defiance, or tears-in-their-beers balladry flush with seething emotion. That's especially true on the band's latest outing III, a confident collection that gives voice to the band's pure, unfettered intents."
---
The BLNDRS are a psychedelic blues rock band from central Virginia. The four-piece has been playing unforgivingly honest and original rock'n'roll since 2015, and has nurtured an impressive regional following. The group is best known for their creative and dynamic grooves and their unpredictable improvisation, but The BLNDRS have also come to be known for the culture of friendship, intimacy, and positivity that the band of friends exude on and offstage.

Alice, Nate, Tommy, and Ben all are songwriters, multi-instrumentalists, and vocalists in The BLNDRS. While you will undoubtedly see Ben behind the drums, Tommy playing bass, and Nate and Alice on guitar at a show, this is in no way the limit of The BLNDRS. Consisting of four best friends, The BLNDRS have carved out their own universe of fun and friendship through the language of music. The four musicians grew up together, and have struggled and overcome together. This is evident in their collective presence, and the joy emanating from the stage with their music.
Waterboys is the signature initiative of the Chris Long Foundation, and is dedicated to raising funds and awareness for clean water for communities in East Africa. Bringing together NFL players, their fans, corporate sponsors, and other charitable organizations, it works to fund the building of sustainable clean water wells through WorldServe International, the initiative's benefiting charity.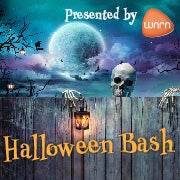 Doors

6:00 PM

Show

6:30 PM

Price

$12 - Advance
$15 - Day of Show
SHOWINGS
This event has already occurred.