Tue, Oct 26, 2021
Indigo Girls
with Amanda Anne Platt & The Honeycutters
On their 16th studio album, Indigo Girls tell their origin story. Look Long is a stirring and eclectic collection of songs that finds the duo of Amy Ray and Emily Saliers reunited in the studio with their strongest backing band to date as they chronicle their personal upbringings with more specificity and focus than they have on any previous song-cycle. "We're fallible creatures shaped by the physics of life," says Saliers. "We're shaped by our past; what makes us who we are? And why?"
Produced by John Reynolds (Sinéad O'Connor, Damien Dempsey) and recorded in the countryside outside Bath, England at Peter Gabriel's Real World Studios, these eleven songs have a tender, revealing motion to them, as if they're feeding into a Super 8 film projector, illuminating a darkened living room. "When We Were Writers" recounts the flying sparks and passion Saliers felt as a young college student when the duo first started performing together. "Shit Kickin'" is a nuanced love letter to Ray's Southern heritage. "I'm a little bit left of the 'salt of the earth' / That's alright, I'll prove my worth," she sings.
Released in 1989, Indigo Girls' eponymous major label debut sold over two million units under the power of singles "Closer to Fine" and "Kid Fears" and turned Indigo Girls into one of the most successful folk duos in history. Over a thirty-five-year career that began in clubs around their native Atlanta, Georgia, the Grammy-winning duo has recorded sixteen studio albums (seven gold, four platinum, one double platinum), sold over 15 million records, and built a dedicated, enduring following.
"We joke about being old, but what is old when it comes to music? We're still a bar band at heart," says Saliers. "We are so inspired by younger artists and while our lyrics and writing approach may change, our passion for music feels the same as it did when we were 25-years-old."
Amidst our often-terrifying present, Look Long is a musical balm for those of us in search of a daily refuge, an hour or two when we can engage with something that brings us joy, perspective, or maybe just calm.
"People feel lost in these political times," explains Saliers. "Let's lament our limitations, but let's also look beyond what's right in front of us, take the long view of things, and strive to do better. As time has gone on, our audience has become more expansive and diverse which gives me a great sense of joy." Jubilant crowd singalongs that often overpower the band itself are a trademark of Indigo Girls concerts. With the highly anticipated return of live music, soon the night sky over amphitheaters all across the country will fill once again with those collective voices raised in song. The phenomenon epitomizes the sense of belonging and celebration that Indigo Girls' music radiates. As one bar band once put it, "We go to the doctor, we go to the mountains…we go to the Bible, we go through the work out." For millions, they go to Indigo Girls. On Look Long they'll find a creative partnership certain of its bearings, forging a way forward.
---
About Amanda Anne Platt & The Honeycutters
The music of Asheville, North Carolina based outfit Amanda Anne Platt & The Honeycutters is nuanced, bringing insight and wit to the stories Platt tells through songwriting. Lyrically driven, the band's country roots music often inspires introspection, whether it be about life on the road, heartache or hope.
There is an empathetic and charming wit ingrained in Platt's songwriting. She has a knack for accessing a deep well of emotion and applying it to her story-telling, whether she is writing from her own experiences or immersing herself into the melody of emotions in another person's life.
Performing along with Platt, The Honeycutters are Matt Smith (pedal steel and electric guitars), Rick Cooper (bass/vocals), Evan Martin (drums/vocals), and Kevin Williams (keys/vocals).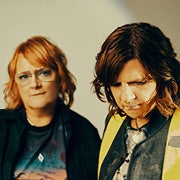 Doors

6:00 PM

Show

7:00 PM

Price

$39 - $69
SHOWINGS
This event has already occurred.