Wed, Aug 24, 2022
LANY: Summer Forever Tour
with Surfaces and Annika Bennett
Los Angeles-based trio LANY craft dreamy pop with an R&B spirit, as heard on early EPs and their debut full-length, 2017's LANY. They had another Top 40 showing with their 2018 sophomore LP, Malibu Nights, before landing their first Hot 100 hit single in 2019 with the Lauv collaboration "Mean It." In 2020, the band reached a chart peak with the Top Ten "Mama's Boy", following it a year later with the Andrew Goldstein-produced gg bb xx.
Formed in Nashville in 2014 by three friends -- Paul Jason Klein from Tulsa and Leslie Priest and Jake Goss from Nashville -- the members of LANY studied music in college and are multi-instrumentalists. During a trip from L.A. to Nashville, Klein hooked up with Priest and Goss, who were working on their own project, WRLDS. They decided to start something new together and LANY was born. The band's name (pronounced "Lay-nee") is a nod to Los Angeles and New York, marking their desire to spread their music from coast to coast. That music combines the feel of '80s radio pop, '90s R&B soul, and atmospheric synths.
---
Surfaces is a Texas-based duo comprised of Forrest Frank and Colin Padalecki. Forming in 2017, with Forrest manning vocals and production, and Colin handling writing and arrangements, they released their debut album later that year titled Surf. Quickly capturing the attention of fans, they followed in 2019 with the release of Where the Light Is, catapulting them into stardom with breakout smash "Sunday Best." The RIAA double-platinum certified track went on to surpass 2.5 billion streams, break into the Top 20 on Billboard's Hot 100, reach #9 at Pop Radio and led to performances on The Tonight Show with Jimmy Fallon, Late Night with Seth Meyers, The Late Late Show with James Corden, and The TODAY Show.
They continued their momentum with the release of Horizons, in early 2020, featuring "Take It Easy," followed by their collaboration with the legendary Elton John on "Learn To Fly" and, most recently, the release of their 2021 album, Pacifico, featuring stand out singles "Wave of You" and "Come With Me" featuring Salem Ilese.
Now, Forrest and Colin focus on the next chapter of their musical career. Redefining their sound and perfecting their craft, the two isolated themselves in a house in Joshua Tree to experiment with new sounds and record. Inspired heavily by the likes of Tame Impala and Tom Misch, Surfaces pushed themselves to venture outside of their norm and craft some of their most innovative work to date. Kicking things off with "I Can't Help But Feel," the duo continue to carve their path and hint at more to come.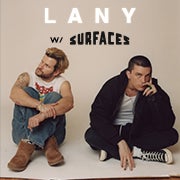 Doors

6:00 PM

Show

7:00 PM
SHOWINGS
This event has already occurred.