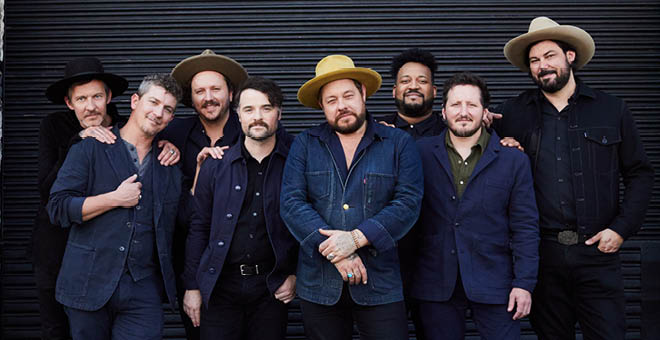 Nathaniel Rateliff & The Night Sweats *Sold Out*
Fri, Sep 15, 2023
Nathaniel Rateliff & The Night Sweats *Sold Out*
with Zella Day
BENEFITING THE CHARLOTTESVILLE FREE CLINIC
---
---
It took Nathaniel Rateliff & the Night Sweats less than five years to become one of the most recognizable new forces in contemporary rock 'n' roll. Since 2015, Rateliff has led his denim-clad, horn-flanked Night Sweats, supplying the zeal of a whiskey-chugging Pentecostal preacher to songs about this world's shared woes. They've had hits, sure, but their combustible mix of soul and rock quickly cemented them as the rare generational band who balanced ecstatic live shows with engrossing and rich records. To wit, is there any other modern act capable of revving up stadium crowds for The Rolling Stones while also appearing on Saturday Night Live and CMT Crossroads and at NPR's Tiny Desk in short order?
When Rateliff returned from his pandemic-truncated solo tour in March 2020, he struggled with the same question that vexed so many of us then—what now? Fortunately, he returned to his Colorado homestead and penned a set of songs that synthesized his introspection with his anthemic inclinations. The result is The Future, the third Night Sweats album but the first to capture this octet's true depth and breadth. An instant classic of 11 songs, the album presents something more sustainable, interesting, and indeed open—a songwriter and band growing into bigger questions and sounds, into a future that allows them to remain recognizable but be so much more compelling than some denim-clad caricature.
---

About the Free Clinic:
Proceeds from this Benefit Concert enable the Free Clinic to provide high-quality medical care, mental health services, dental care and prescription medications to uninsured and under-insured individuals, at no cost to them. The Free Clinic business model employs a streamlined staff supported by a vast network of volunteer healthcare professionals and medical, dental and pharmacy students who receive superior training focusing on the delivery of compassionate care with dignity to our most vulnerable community members. With the support of some 800 volunteer providers, the Free Clinic serves nearly 3,000 patients annually.
"The Free Clinic was founded in 1992 by two UVA medical residents who came to realize that thousands of people in Charlottesville were forced to choose between paying rent and seeking medical attention or buying groceries and getting dental care because they had no insurance," says Susan Sherman, the Free Clinic's executive director. "Our founders assumed the Free Clinic would be a stopgap until universal healthcare was the law of the land. Medicaid expansion did provide insurance for thousands of previously uninsured Virginians, but there are still scores of people who are still uninsured and have no other option for care," Sherman says. "We are thrilled to have the opportunity to gather the community together for this event and are grateful for our partners at Red Light Management and Ting Pavilion, who make it possible."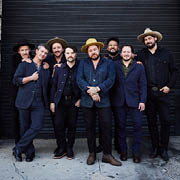 Doors

6:30PM

Show

7:30 PM

Price

$47 - $79
SHOWINGS
This event has already occurred.