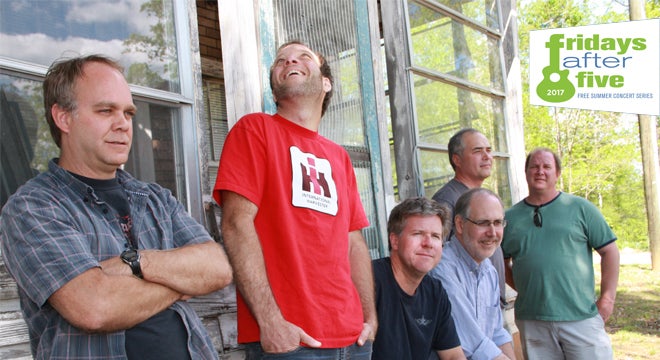 Second Draw - Fridays After Five
Fri, Apr 14, 2017
Second Draw - Fridays After Five
with Her Checkered Past
FRIDAYS AFTER FIVE - BUD LIGHT CONCERT SERIES
Second Draw - Jam Band Bluegrass - Free Show
Second Draw is a six member, all-originals band that plays a sub-genera of Americana music they call "Blue Jam Music". Rob Frayser, mandolin player for the Charlottesville based band, says "When you see the mandolin and banjo out-front, people assume bluegrass; but the band's lead electric guitar (Aaron Evans), electric bass (Jim Keathley) and full drum kit (Craig Dougald) provide a solid rock and roll foundation." Throw an accordion into the mix, played by Canadian, Jeff Luross, and the resulting sound defies categorization - each instrument weaving rich strokes of acoustic, rhythmic new grass and electric jam-band influences in and out of a driving dance beat.
The band traces its origins to Thursday night jam sessions hosted in the western parts of Albemarle County in early 2005. Core members: banjoist/lyricist Shannon Williams; accordionist, Jeff Luross; and bassist Jim Keathley, met and quickly realized a common desire to detour from the traditional to find a more contemporary sound. Mandolin player and composer, Rob Frayser, joined the group in late 2007, cementing the group's direction toward playing acoustic rock/jam band-oriented music. The group added drummer, Craig Dougald, and electric guitarist, Aaron Evans, both well-known Charlottesville musicians, (Indecision, Alligator) to complete the band's now characteristic "Blue Jam" sound.
Second Draw self-released their first CD, "White Dog" in late 2010. White Dog is the term old-timers use for the first run off the whiskey still. True to its name, this all-original release captures the raw distillation of each band member's varied musical influences. Second Draw plays their own brand of music regionally across NC, VA and WV at a wide-variety of venues. Locally, the band has performed at the Jefferson, the Southern, the Mockingbird, the Batesville Store, Misty Mountain Music Festival and of course, Fridays after Five.
Like a fine whisky, Second Draw wants to play songs that go down like water and warm your soul with melody, raw harmony, and honest lyrics. Shannon points out that the band's name relates to the fact that most folks, after taking a first pull of the band's unique Blue Jam sound, end up coming back for a longer more satisfying "Second Draw".
SHOWINGS
This event has already occurred.