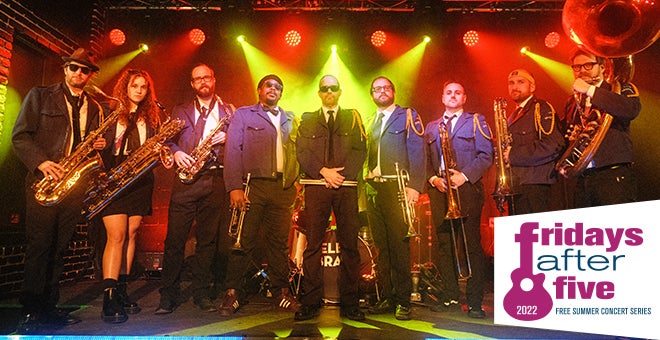 Fridays After Five: Elby Brass
Fri, Aug 12, 2022
Fridays After Five: Elby Brass
with 21st Century Ltd
FRIDAYS AFTER FIVE | BUD LIGHT CONCERT SERIES
Elby Brass - Fredericksburg's Homegrown Brass Band
Elby Brass is Virginia's best street brass band—specializing in hard-hitting funk, sizzling soul, and shout-along favorites. Homegrown in Fredericksburg, they feature trumpets, trombones, saxophones, sousaphones, drums, and an undeniable energy. Don't expect anything but brash, raw horn jams and definitely don't expect to stand still. Killer in the club and fantastic at festivals—when you need the party to start right now, you need Elby Brass.
Their most recent release, Turbo Vespa, is a maxi-single available on limited edition vinyl, a first for the band. Backed with the super jam "Like We're Gonna Do It", this one-two punch of afrobeat and acid jazz highlights the band's instrumental side without sacrificing their signature call-and-response chanting.
Official http://elbybrass.com
SHOWINGS
This event has already occurred.