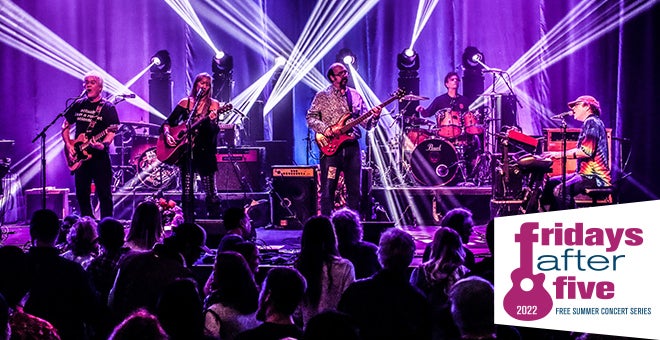 Fridays After Five: Mama Tried
Fri, Aug 5, 2022
Fridays After Five: Mama Tried
with Silas Frayser Band
FRIDAYS AFTER FIVE | BUD LIGHT CONCERT SERIES
Mama Tried - Grateful Dead Inspirations
Mama Tried is a 5-piece band from Charlottesville, Va., with Susan Munson on guitar and vocals, Charlie Pastorfield on guitar and vocals, Stuart Holme on bass, Kent Raine on drums, and Sam Johnston on keys, vocals and harmonica. These five play high-energy versions of early Grateful Dead songs, plus their own impressive material, with a heavy accent on improvisation. Even though their name is taken from a Merle Haggard tune, they are definitely a "jam band," with the ability to go out exploring while remaining cohesive, then get back smoothly to the original song, and make it all sound good. Members in Mama Tried also perform with some of Charlottesville's favorite bands, including Alligator, Mojo Pie, The Cows, and the Skip Castro Band. These seasoned musicians will not disappoint!
From Tony Beers Free-lance writer, Washington, DC, Feb 9th, 2016:
First, Charlie Pastorfield's guitar work, on any one of several Telecasters in his arsenal, is impossible not to notice and by notice, I mean, this guy plays with such command of his instrument, it was a true pleasure to watch him. To hear the demonstrative licks effortlessly conveyed from his ax, as an admitted instant fan, it was easy to see that the smile on his face, when he'd step back from the mic and close his eyes, emanated from the heart of a true journeymen in love with his craft. Pastorfield's chops were amazing, but smooth, integrally complimenting his band mates at the same time. Being a bassist himself in addition to lead, it was easy to see why bassist Stuart Holme and Charlie share such a seamless musical relationship. It was hard to know which guy to look at, because even when Charlie's fingers were catching every note he wanted at extraordinary speed, Holme, with fingers at least as fast as any lead guitar should be, spanned his fret board, not needing to look up to follow the changes. He filled every possible bass note in and around Pastorfield's with such dexterity it too appeared effortless. Rarely have I seen a lead guitarist and the bassist with their eyes closed at the same time, with the same expression of creative freedom only an artist who's reached a pinnacle in their career gets to enjoy--where they can both listen as an observer to the other musicians and contribute at the group level, while letting their individual train go outside the box. While Mr. Pastorfield also employs very competent lead vocals, his long-time friend and band mate from Alligator, Susan Munson, another of C-ville's musical gifts, shines. With her expressive lead vocals and back up harmonies, she sings passionately, grounding the band in the sweet "Americana" roots that make up much of their catalog. Munson also contributes the clean rhythm guitar work that all lead guitarists rely on so heavily, providing a platform of chord work in which to play off of. Lastly and certainly far from the least of this ensemble's highlights, is the rhythm, timing, nuance, and ear of one of the most delightfully talented drummers I have seen in a long time. Kent Raine, humbly held court on a kit which I couldn't see or hear get one wrong stroke. My eyes, several times that evening, were absolutely glued to this guy. He, like all his band mates, was a delight to watch. I don't believe it is a stretch to say that Raine could hang with many of the innovative jazz drummers of our time, or at least sit in and hold his own. Watching Raine, one drummer particularly comes to mind and who is sure to be an influence in Raine's sense of timing and style, is Steve Gadd, whose jazz/fusion versatility has allowed him to perform with rock's Paul Simon, Eric Clapton and Steely Dan, but played just as well with the likes of Mingus, Baker, and most notably Chick Corea.
SHOWINGS
This event has already occurred.